Trainer Tuesday: Erin Kelly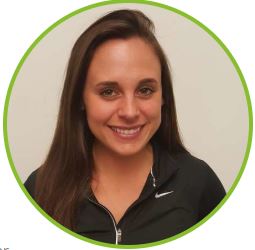 General Manager 181 West Madison
INSTAGRAM HANDLE: @bellsnkells
MY INSPIRATION: What helps me feel inspired each day is to focus on small goals. For example: I keep a log of what weight and reps I do for each exercise I complete throughout the week; that way I can try to either increase the weight I've used or increase reps the next time I do each exercise. Being able to push myself a little harder each week inspires me to keep going!
FAVORITE TEACHING MOMENT: My favorite teaching moment is when it all clicks for the client or participant! When they learn how to do each movement or exercise perfectly, when they've been consistent with their workouts and eating, and when they actually look forward to coming into the gym! Once you accomplish these three things you will see results and feel unstoppable.
FITNESS PHILOSOPHY: Consistency is key!
FAVORITE WORKOUT: Spin class! Gets my heart rate pumping, sweat dripping, and I always feel accomplished and pumped up afterwards. If you haven't tried this type of workout yet you must!
FAVORITE PRE- / POST-WORKOUT SNACK: My favorite post-workout snack would be a protein shake! I use one scoop of Dymatize Chocolate Peanut Butter protein powder, 1 cup unsweetened almond milk, 1 cup of frozen strawberries/mixed berries, 1-2 tablespoons of natural peanut butter.