Trainer Tuesday: David Burnett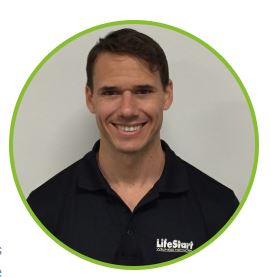 JOB TITLE: Regional Manager (I help oversee 1NLS, 33NLS and 181WM)
INSTAGRAM HANDLE: burnett.db (I'm bad at social, though)
MY INSPIRATION: My fitness mentor, Sean Armstead (IG seanarmstead1). He's the person I try to emulate on the training floor, and in my own fitness pursuits.
FAVORITE TEACHING MOMENT: When a new client realizes they have dominion over their own bodies, and a realistic path to positive change. This is so critical since many people are largely disconnected from physical culture.
FITNESS PHILOSOPHY: Keep learning.
FAVORITE WORKOUT: Track intervals in the summer – like 400m or 800m repeats. The most challenging and rewarding workouts I've ever done. It's also nice to be out there with friends.
FAVORITE PRE- / POST-WORKOUT SNACK: Pre-workout favorite: black coffee, apple, and sardines (I know it's gross, but it gives me great energy for a full hour). Post-workout favorite: red meat, veggies, avocado, and a protein smoothie for dessert ;)