Trainer Tuesday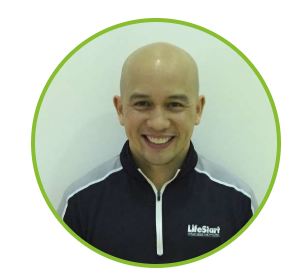 Two North Riverside and 500 West Madison
NAME:
Randy Santiago
FITNESS CENTER LOCATION:
Two North Riverside & FIT@500
JOB TITLE:
Senior General Manager
INSTAGRAM HANDLE:
What is Instagram?! ... HA!
MY INSPIRATION:
My wife and 2 children.
FAVORITE TEACHING MOMENT:
I have coached people from the age of 6 through their 60's. There is one constant regardless of age and experience. My favorite teaching moment is the moment a person accomplishes something new. The glow in a person's eyes and the smile on their face is priceless.
FITNESS PHILOSOPHY:
Keep it simple. Work compound movements. Push, Pull, Squat and Hinge. Move well first. Move well consistently ... then focus on intensity.
FAVORITE WORKOUT:
Anything with squats and over-head presses.
FAVORITE PRE- / POST-WORKOUT SNACK:
Pre-Workout: "Miguel's Burrito" from Burrito Beach (1/3 of it)
Post-workout: The rest of the burrito!
RANDOM FACT ABOUT YOU:
I was a cheerleader in college.